Del-Immune V ™
Past Product: 25 mg, 100 caps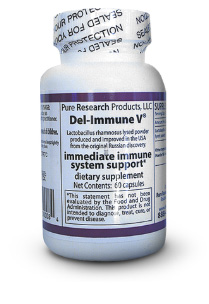 New Product: 100mg, 60 caps
Probiotics that have been lysed (broken open). Order Below.
Dosage: Take one capsule daily for immune protection;
if ill, take 2 capsules every 12 hours till symptoms disappear.*
Personal Recommendation: At first sign of a cold or flu, take 2 - 3 capsules and REST. If not well in 8 hours, repeat. *
Specially priced for the readers of the Wellness Journeys. We are not raising our prices (at least for now) even though the amount you receive has increased.
60 Capsules $37.99 + Shipping & Handling
*DISCLAIMER
This product has not been evaluated by the Food and Drug Administration.
This product is not intended to diagnose, treat, cure or prevent any disease. It is not a substitute for professional care. If you have, or suspect you might have, a health problem, or if you have questions about your medications, you should consult your health care provider.
Please read our Shipping Policy.