Algoran LifeForce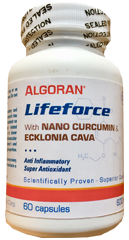 ALGORAN LIFEFORCE

THE ULTIMATE ANTIOXIDANT/ANTI-INFLAMMATORY FORMULA
Algoran LifeForce formula is a blend of Ecklonia Cava and Nano-Curcumin. These two natural ingredients are considered by many researchers to possess properties that are extremely effective in reducing inflammation and oxidative stress.

Inflammation is part of all disease states and nano-curcumin shuts off the master switch for inflammation in the body. It is the preferred antioxidant for smokers, those with arthritis, inflammatory bowel disease and pain. It can also be taken as an overall protective herb for general health. Combined with ecklonia cava, Algoran LifeForce can be used as a master antioxidant and anti-inflammatory formula for any adverse condition in the body.

INTRODUCTORY PRICE $29.95 (UNTIL OCTBER 24th). REG: $39.95
BUY 3 BOTTLES AND GET FREE SHIPPING
One Bottle: $34.95 $27.96 + S&H
Two Bottles: $64.95 $47.96 + FREE Shipping (within US)

Four Bottles: $129.95 $95.96 One FREE Bottle + FREE Shipping (within US)

Neither the products nor this site are designed to diagnose or treat you. Your health is in your hands. If you are sick, see a physician.
We make no claims about our products. If you want information about the product, please click the links supplied and go read about them.
We sell these products hoping they will make you feel better and that they will work for you. If they do not or you respond adversely
to them, just contact us at stbestone@gmail.com,. Simply return the unused portion to us within 30 days of purchase and we will
promptly refund you your money minus shipping and a 10% restocking charge.